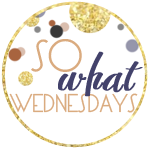 This week I am saying so what if,
- I am shopping way, way too much! I am super excited about seeing Gianna on Christmas morning with all of her presents and Miles too, even though he will more than likely enjoy the paper even more.
- I missed my long run this weekend, I was sick, I will get back to it this weekend (I hope).
- I plan on eating cake at least once, probably twice a day for the remainder of the week. It's my birthday!
- This is my last year in my 20's. I plan for it to be a great one and I am going to do everything in my power for that to go down.
- I am completely behind on household chores, we have all been sick!
- I have been sucking at cooking lately, I will get it together soon. Maybe this weekend?!
- It's going to be super hard to work today, all I can think about is my sick kiddos, my birthday (whoop, whoop), where I want to eat dinner tonight, LOL and my new Silhouette Cameo!!!! YAY YAY!!!
Happy Hump Day!!